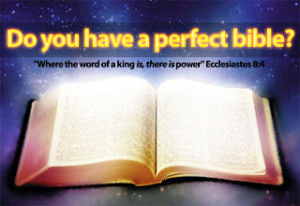 Here is a brief look at why the Authorized King James Bible is the PURE and SURE WORD of GOD in English. The Bible says that,
PURE:
Prov 30:5 EVERY WORD of God is PURE:
Psa 12:6 The WORDS of the LORD are PURE WORDS: as silver tried in a furnace of earth, purified seven times.
Psa 119:140 Thy WORD is VERY PURE: therefore thy servant loveth it.
and that,
Luke 4:4 And Jesus answered him, saying, It is written, That man shall not live by bread alone, but by EVERY WORD of God.
SURE:
God's word is magnified even above His name!
Psa 138:2 I will worship toward thy holy temple, and praise thy name for thy lovingkindness and for thy truth: for thou hast MAGNIFIED thy WORD *above* all thy name.
And it is more sure than God's actual voice!
2 Pet 1:18-20 And this voice which came from heaven we heard, when we were with him in the holy mount. 19 We have also a MORE SURE WORD of prophecy; whereunto ye do well that ye take heed, as unto a light that shineth in a dark place, until the day dawn, and the day star arise in your hearts: 20 Knowing this first, that no prophecy of the SCRIPTURE is of any private interpretation.
While we're talking about the word of prophecy, let's look at God's requirements for His prophets:
Deut 18:20-22 But the prophet, which shall presume to speak a word in my name, which I have not commanded him to speak, or that shall speak in the name of other gods, even that prophet shall die. 21 And if thou say in thine heart, How shall we know the word which the LORD hath not spoken? 22 When a prophet speaketh in the name of the LORD, if the thing follow not, nor come to pass, that is the thing which the LORD hath not spoken, but the prophet hath spoken it presumptuously: thou shalt not be afraid of him.
One error is fatal! 99% is not enough, God's prophecy is 100% Does your Bible meet these rigid qualifications?
PRESERVED FOREVER:
God also promised to preserve His word forever. If not the King James, which Bible meets the above criteria?
Psa 12:6-7 The words of the LORD are pure words: as silver tried in a furnace of earth, purified seven times. Thou shalt keep them, O LORD, thou shalt preserve them from this generation for ever. Isa 40:8 The grass withereth, the flower fadeth: but the word of our God shall stand for ever.
Since God promised to preserve His word forever, there are only three possibilities:
He did.
He LIED.
He FAILED.
I select #1, that He did in the Authorized King James Bible. There is no other absolute text. Not even in the Greek, there are dozens of Greek texts. There are several different Textus Receptus texts, and they do not all agree totally.
If you select #1, can you tell me what and where God's word is? Otherwise, which other option did you select? It gets pretty simple when you get to the basics.
Every other English version can be proven false, most with only a few verses.
Mark 1:2 As it is written in the prophets, Behold, I send my messenger before thy face, which shall prepare thy way before thee.
Almost every other English version credits Isaiah with the quotes, when one of them was from Malachi. That is an outright error in the other versions. Malachi and Isaiah could sue all the modern versions for misrepresentation!
Acts 8:37 And Philip said, If thou believest with all thine heart, thou mayest. And he answered and said, I believe that Jesus Christ is the Son of God.
This important verse telling how the Ethiopian eunuch got saved is left out of most of the modern versions.
Acts 25:6 And when he had tarried among them more than ten days, he went down unto Caesarea; and the next day sitting on the judgment seat commanded Paul to be brought.
Most other versions say "eight or ten days", which is ten days or LESS – the very OPPOSITE of the KJV! If a version can't count to ten, it's not worth trusting my soul to!
The other versions change verses dealing with important things like salvation, the deity of Christ, the scriptures, the virgin birth, and others. They are not just simple updates of the English.
Neither are the other versions easier to read. The Flesch-Kincaide Research Company ran a battery of 26 tests among the common versions and the King James was EASIEST in 23 of the 26 criteria. It is written at less that 6th grade level. Two other research groups performed tests which vindicated these results. Thee and thou are not really that hard, and they distinguish between singular and plural, something contemporary English does not do with "you". The big words like who-so-ever are not difficult either.
Some of the concepts are difficult, but to word them easier changes what is said and makes it wrong.
I simply believe that God kept His word, like he said he would.