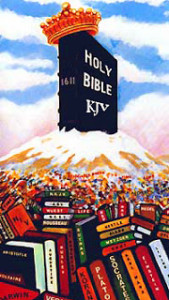 Often it is stated that the King James Bible can't be "inspired scripture" because copies and translations can't be "inspired" – only the "originals" are inspired. Even some supposed KJB advocates will only go so far as to claim that the KJB is "preserved", but not inspired. Of course, others claim neither preservation, nor inspiration for the Authorized Bible.
INSPIRATION:
Let's look at what the word of God says about inspiration and preservation:
2 Tim 3:16 All scripture is given by inspiration of God, and is profitable for doctrine, for reproof, for correction, for instruction in righteousness:
"Scripture" is what God gave by "inspiration". The question is "What is the scripture?"
A copy or a translation CAN indeed be "inspired scripture". Just look at the previous verse:
2 Tim 3:15 And that from a child thou hast known the holy scriptures, which are able to make thee wise unto salvation through faith which is in Christ Jesus.
It was what Timothy had since childhood. It was not the "original manuscripts", but it was "inspired scripture".
Acts 17:11 These were more noble than those in Thessalonica, in that they received the word with all readiness of mind, and searched the scriptures daily, whether those things were so.
Did they steal the "scriptures" from Timothy? No, obviously scriptures, which are inspired by definition, can be pure copies.
Acts 8:32 & 35 The place of the scripture which he read was this, He was led as a sheep to the slaughter; and like a lamb dumb before his shearer, so opened he not his mouth: Then Philip opened his mouth, and began at the same scripture, and preached unto him Jesus.
Did the Ethiopian had the original autograph of Isaiah? Not a chance.
Exo 32:19 And it came to pass, as soon as he came nigh unto the camp, that he saw the calf, and the dancing: and Moses' anger waxed hot, and he cast the tables out of his hands, and brake them beneath the mount.
Uh oh! There go the "originals". Even the replacement "original" tablets were not scripture. Moses COPIED (maybe translated) them into the Pentateuch. The 10 Commandments in the "original" were a third-generation copy. Then in the "original" New Testament, Jesus and Paul quoted and translated them! Their words, when referring to the Commandments in the "original" NT, were fourth-generation translations of copies, but still "inspired scripture".
Prov 25:1 These are also proverbs of Solomon, which the men of Hezekiah king of Judah copied out.
Jer 36:32 Then took Jeremiah another roll, and gave it to Baruch the scribe, the son of Neriah; who wrote therein from the mouth of Jeremiah all the words of the book which Jehoiakim king of Judah had burned in the fire: and there were added besides unto them many like words.
NT quotes of OT passages are Greek translations of Hebrew. Nearly EVERY WORD spoken by Jesus (Aramaic or Hebrew) was translated into Greek.
PRESERVATION:
What exactly is it that is preserved? Logically it is the inspiration of scripture that is preserved.
Psalm 12:6 The words of the LORD are pure words: as silver tried in a furnace of earth, purified seven times. Thou shalt keep them, O LORD, thou shalt preserve them from this generation for ever. (7's P. 69-70)
Isa 40:8 The grass withereth, the flower fadeth: but the word of our God shall stand for ever.
Matt 24:35 & Luke 21:33 Heaven and earth shall pass away, but my words shall not pass away.
1 Pet 1:25 But the word of the Lord endureth for ever. And this is the word which by the gospel is preached unto you.
The "originals" are gone! If God was talking about them, He FAILED (or LIED)!
The scripture cannot be the "winnowed sum of all the texts", because they differ. We must have something 100% certain to stand on as authoritative from God. Otherwise, we do not know for certain what parts are accurate and what parts are errors. We'd have no absolute authority beyond our own opinion.
Prov 30:5 EVERY WORD of God is pure: he is a shield unto them that put their trust in him.
Deut 8:3 And he humbled thee, and suffered thee to hunger, and fed thee with manna, which thou knewest not, neither did thy fathers know; that he might make thee know that man doth not live by bread only, but by EVERY WORD that proceedeth out of the mouth of the LORD doth man live.
Matt 4:4 But he answered and said, It is written, Man shall not live by bread alone, but by EVERY WORD that proceedeth out of the mouth of God.
Luke 4:4 And Jesus answered him, saying, It is written, That man shall not live by bread alone, but by EVERY WORD of God.
John 12:48 He that rejecteth me, and receiveth not my WORDS, hath one that judgeth him: the WORD that I have spoken, the same shall JUDGE him in the last day.
Which "Bible" is the one in which "EVERY WORD" can be claimed? The Greek? There are 5000 Greek portions? The Majority Text? Which one? The Textus Receptus? Which one? The MT and TR are reasonably "accurate" and agreeable, but not identical. Most "reliable" are the TR texts. They are what the King James was translated from, but even they are not absolute. There are at least six TR texts Erasmus, Stephanus, Elzevir, Colineaus, Beza, Scrivener. There are several editions of each, about two dozen total. They are very close, but not identical, ("ass" & "son" interchanged, among other differences).
Could be that one of them is the pure scripture in Greek, or could be they came from the pure Greek which is no longer extant. Perhaps the pure Greek is somewhere with the "originals"?
There are two lines of Bible texts, one good (Antioch) one corrupt (Alexandria):
KING'S Lineage: Very little dispute on OT Masoretic. Disparity is in the Greek.
Alexandria, Egypt (Africa)
Egypt represents sin cursed world system, arch-enemy to Israel. God called Moses, Jacob, Israel, Joseph's Bones, and Jesus Christ, OUT of Egypt.
Acts 6:9 Then there arose certain of the synagogue, which is called the synagogue of the Libertines, and Cyrenians, and Alexandrians, and of them of Cilicia and of Asia, disputing with Stephen. (1st mention)
Acts 27:6 And there the centurion found a ship of Alexandria sailing into Italy; and he put us therein. (Wreck)
Acts 28:11 And after three months we departed in a ship of Alexandria, which had wintered in the isle, whose sign was Castor and Pollux. (occultic)
Adamantius Origen's heretical allegorical school was in Alexandria. The principle Alexandrian texts are spurious at best, Satanic perversions at worst. Vaticanus was found stuffed in the Vatican library where it had been for 1500 years. Even the old Catholics rejected it!, Sinaiticus was found in a trash can, where it belonged. Only 1% of the 5000 portions are Alexandrian and they disagree w/each other, as well as the Antioch texts. One is missing Revelation, both are missing large portions, but add apocryphal books. Westcott & Hort propagated Origen's' corruptions.
ALL English versions, except ONE (you get ONE guess which ONE), use Alexandrian texts. Even ones that claim TR, use Alex. when changing. Nkjv also uses Kittle's Samaritan OT.
Antioch: Syria (Middle-East, Byzantine)
Acts 6:5 And the saying pleased the whole multitude: and they chose Stephen, a man full of faith and of the Holy Ghost, and Philip, and Prochorus, and Nicanor, and Timon, and Parmenas, and Nicolas a proselyte of Antioch: (1st mention)
Acts 11:26 And when he had found him, he brought him unto Antioch. And it came to pass, that a whole year they assembled themselves with the church, and taught much people. And the disciples were called Christians first in Antioch.
Acts 13:1 Now there were in the church that was at Antioch certain prophets and teachers; as Barnabas, and Simeon that was called Niger, and Lucius of Cyrene, and Manaen, which had been brought up with Herod the tetrarch, and Saul.
Acts 15:22-23 Then pleased it the apostles and elders, with the whole church, to send chosen men of their own company to Antioch with Paul and Barnabas; namely, Judas surnamed Barsabas, and Silas, chief men among the brethren: And they wrote letters by them after this manner; The apostles and elders and brethren send greeting unto the brethren which are of the Gentiles in Antioch and Syria and Cilicia:
Big difference between Alexandria and Antioch. ONLY ONE English Bible comes from the Antioch line, guess which one?
Certainly there is faith involved, but the facts point to no other possible version but the Authorized King James Bible.