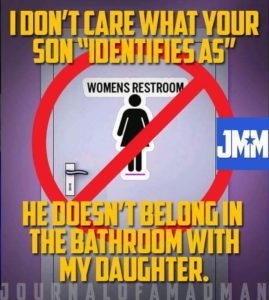 SPRING AHEAD! (Of course we had snow yesterday)
For, lo, the winter is past, the rain [snow for us] is over and gone; The flowers appear on the earth; the time of the singing of birds is come, and the voice of the turtle is heard in our land; The fig tree putteth forth her green figs, and the vines with the tender grape give a good smell. Arise, my love, my fair one, and come away. Song 2:11-13
Wait! Didn't I say that last month? Well, today is finally in the 50s and snow-free, but we did have some flakes yesterday.
Enough of the snow and cold. The hot issue of the day is the transgender bathroom controversy, which is an offshoot of the homosexual agenda. They are BOTH a result of overlooking the first few chapters of Genesis. Those chapters give us the instructions for sex, marriage, and even dress. If we saturate our people with Gen 1-3, they will be much better inoculated against the contemporary onslaughts of immorality.
If we don't have an absolute standard for morality (the Bible, with Genesis as its foundation), we have no basis to say transsexualism is "wrong". There is no reason beyond opinion that a man shouldn't be able to use the same dressing room as a woman, apart from the Bible.
Less than 3% of society are homosexuals, yet they drive our political and social agenda. How did 3% back the other 97% into a corner? Because most of that 97% neglect Genesis. They have become complicit on behalf of the sodomites by their support or their silence. Without a foundation of Genesis, they have been co-opted into supporting the sodomites as if they were maligned victims. We don't want to persecute sodomites, but we sure don't want them taking over society. Gen 19 and Judges 19 show how destructive that will be.
The Genesis creation account is hardly a side-issue. It is FOUNDATIONAL. If we ignore it as a side-issue, we reap the results in our churches and society. Don't let your church or your children be victims.
MEETINGS

Last week I did two Awana classes at Plymouth Congregational Church here in Oshkosh. Their Awana leader, Jim Engler, saw one of my presentations at the University of WI-Oshkosh and wanted me to minister to his church's youth groups.
It was one of the best times I've ever had. I brought several of my fossils and gave an overview lesson.  After the messages I was overrun with parents because the kids ran to get their parents and show them all the stuff. I was keeping up as best I could with the delightful swarm, but several of the kids were able to grab a fossil and give the material to their parents, almost verbatim. I was glad at how excited they were and surprised at how well they retained the information.
They want me back again next year. I will probably do some of my Powerpoint stuff then.
NEW MESSAGE
        Sadly, most of the fossils and artifacts in my collection are a result of the flood. They are testimonies of sin and death. But that inspired a message on that topic that also explains why there is sin, death, and tragedy in this world. Why do bad things happen to "good" people and why do bad people seem to get away with things? Those are legitimate questions many lost people have. It is a good Sunday school message. It sets the stage for much of the rest of the presentations, and I am able to fit it into Sunday school time constraints. Some of the other messages I've used for Sunday school are getting longer as new information and discoveries are released. The current title is "Wages of Sin is Death", though if I can think of a more witty title, I may change it. Maybe "Bones of Death"? Feel free to offer suggestions.
I had my normal monthly meeting at Door Bible Baptist in Brussels, WI (Pastor Mark Englebert). They are such a blessing, being, in effect, a supporting church by having me in every month. Probably next month I'll do my new message there. I had been writing one of the guys Pastor Englebert led to Christ in his prison ministry for the past several months He was released in March, and I was hoping to see him in church once he got out – but I haven't heard from him this month 🙁
COMING UP:
        I'll be back in New York twice this summer, first at Temple Baptist Church (Pastor Vince Williams), in Norwich, NY for a week-long series of meetings. Then again in June at First Baptist Church in Parishville, NY (Pastor Pedro Morales) for several days. At the end of June will be a VBS for All Bible Baptist Church (Pastor Peder Methum) in Milwaukee. Pastor Methum has been sending his youth to the VBS at Bro. Clayton Jones' church in Franklin, WI (where I have been a few times, including their VBS) and decided to have his own program this year (though I'm sure the gang at Tri-County is welcome). All Bible is an inner-city church with an outreach to minority children who will really benefit from seeing the racist implications of evolution.
I have a few future meetings planned for later in the year, including a return to Anchor Bible Baptist (Pastor Darren LaRue) in Ohio and a meeting for the Northwoods Creation Association in Ashland, WI this fall. Tacked onto the NCA meeting will be a weekend session at Harbor Lights Baptist Church (Pastor Randy Hoffman) up in Ashland. Then comes a return to Truth Baptist Church in Portage, WI (Pastor Reggie Williams) for a weekend in October.
I've still got room for more! NOW is the time to schedule a meeting for your church. Call 920-376-0828 or respond to this email. If any of you are interested in having me for a meeting, I have created a new page on my website that tells what I have what I might need, and some pointers and basic information. Check it out at: http://genesisevidence.org/my-needs/
PRAYER REQUEST:
While trying to find out how to convert Youtube videos into files suitable for Powerpoint, my laptop caught a virus and gave up the ghost. I have a back-up laptop, but it is one that suffered from being overheated, so I use it sparingly. It works, but it is a bit crippled. I will need to get a new laptop (or fix the dead one, but that might not be worth the cost).
In closing, our daughter Hannah is doing spectacularly at Wyldewood Christian school. In her first full quarter, she made the high honor roll with a 97% cumulative average. She has made some good, godly friends and confidantes. We're so encouraged at her progress and by her future