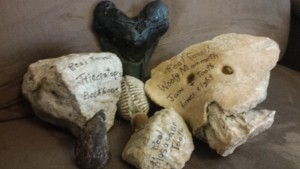 Some of my real fossils, megalodon tooth, triceratops vertebrate, closed clam from mountaintop, mosasaur tooth, woolly mammoth jaw, T-rex bone.
REACHING FORTH!
Brethren, I count not myself to have apprehended: but this one thing I do, forgetting those things which are behind, and reaching forth unto those things which are before, Phil 3:13
The domestic news keeps getting better. Not only is Hannah (who will turn 13 this month) excelling at Wyldewood Christian School (95% and above in all subjects) instead of floundering in the public schools, but she has been in our home full-time. Her unsaved father doesn't like that she is living for the Lord again, so he has effectually given her over to us 24/7. Praise God!
Our other kids are all making spiritual moves in the right direction. CJ, 17, is interested in a girl he met at work and has been bringing her to church. It's been good to see that be a priority to him. April (soon to be 20), moved back in, is going to college, and is going to start going to church again, after a heart-to-heart with her mom. Michael, 15, has been the most steady.
I've been preaching at three different nursing homes regularly. I've been doing that for over 25 years. I don't think I'm particularly good at it, but the Lord must want me to keep doing it.
Once a month I preach to our King's Kids Wednesday evening youth group.
Last week I did the chapel service at Wyldewood Christian School. For that the Lord gave me a brand new message, "The Wages of Sin is Death", using several of my fossils to demonstrate sin and death. I have made a Powerpoint out of it and it will become my main Sunday School message in the future. The other messages I used to do often for SS have become longer (I am always getting updated information in the creation/Bible defense realm) and are now full-length messages.
Meetings:
        I went to a couple of weekend meetings with some guys from Door Bible Baptist in Brussels, WI (Pastor Mark Englebert). We were able to save overnight hotel expenses by going as a group. One was Racine Baptist Temple Pastor Frank Williams' annual men's meeting (held at Pastor Clayton Jones' Tri-County Baptist, where I have been several times). The other was a "grace" meeting at Pastor Mark Wagenshutz' Twin Ports Baptist Church in Superior, WI.
February:
        This weekend, I'll be right across from Superior, at North Star Baptist Church (Pastor David Sorenson) in Duluth, Minnesota for a Sunday-thru-Wednesday seminar.
I had a meeting planned at Victory Baptist Church (Pastor Randy Wandell) in Beloit, WI cancelled because of the 10 below zero weather. We should be able to reschedule that one soon.
March:
        I have two local meetings scheduled in March, and possibly another at Bible Baptist Church (Pastor Robert Hatch) in Winneconne, WI.
April:
        We're planning another week-long seminar at Bolt Fundamental Baptist Church (Pastor Jim Lucas) in West Virginia. Last year about a half-dozen churches got together to have monthly combined youth rallies, and my ministry was their kick-off. Apparently they are doing well enough to invite me back this year. In fact, they want me back twice this year. Once for the youth and once for the church, I assume. Pastor Lucas just had a successful triple-bypass surgery this week, so pray for his recovery.
May:
        I'll be back in New York, this time at Temple Baptist Church (Pastor Vince Williams), in Norwich, NY for a week-long series of meetings.
I have a few future meetings planned for later in the year, including a return to Anchor Bible Baptist (Pastor Darren LaRue) in Ohio and a meeting for the Northwoods Creation Association in September.
NOW is the time to schedule a meeting for your church. Call 920-376-0828 or respond to this email.
Here are just a handful of the real fossils in my collection. I also have many replicas, castings, and other artifacts – all used to defend the absolute accuracy of the word of God (KJB). My display usually takes up three standard-sized tables.