I will never forget my trip to Tennessee.
While ministering in Tennessee this week, I got a phone call from my wife informing me that my father, Louis Groppi, just moved into his new residence, called in scripture his "long home", AKA "heaven". He would've been 80 in August. Next time I see him, he'll be young and strong again. His death was a bit unexpected. The doctor had left just three hours earlier and he was doing well despite having a mild infection and falling a few days ago, but at that age, any little thing can be worse than thought.
He trusted the Lord Jesus Christ as his Saviour some 25 years ago, eventually serving as a deacon in his church. Family on the scene report that as he neared death he showed 100% assurance of his salvation and destiny and not even a tinge of fear. THAT'S MY DAD!
NOW is when the blood of Jesus Christ is priceless. Bill Gates, Paul Allen, Steve Jobs, George Soros, David Rockefeller, the Kock brothers, and the entire Sam Walton family combined don't have enough money to buy what I've got in Christ.
I'll miss my dad, but only for a while. How will you handle the death of your loved ones? How will your loved ones handle your death? Trust Christ and you will be able to REJOICE! I got to use my dad's testimony several times in the eight sessions we had in Tennessee.
Ps 116:15 Precious in the sight of the LORD is the death of his saints.
1 Th 4:13 But I would not have you to be ignorant, brethren, concerning them which are asleep, that ye sorrow not, even as others which have no hope.
        About 20 years ago I preached my first sermon at Wyldewood called "Death, You Lose!" In it I said my dad would probably be the next loved one of mine to go. I didn't dream he'd stick around another 20 years. The blood of Christ is still efficacious, and "Death – You STILL LOSE!"
We had a great meeting Wednesday at the Fishery Church and meeting up with my old high school friend, Roger Hull. Roger was my best friend through junior high and high school, but I haven't seen him since he moved to Tennessee in 1981. Roger and I coached a youth baseball team together the year before he moved. I continued coaching, winning four consecutive league championships. In 1983, the year I got saved, one of the players was a 4th grader named Marshall Mathers. He is better known now as "Eminem ", the rap musician (if you can call rap "music").  I led six of the kids in the league to Christ that year, so it is entirely possible that I gave witness of the gospel to "Eminem" when he was a kid.
The pastor and people enjoyed the two sessions and the door is open to return there or possibly other churches Pastor Wishon is familiar with.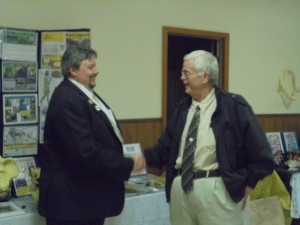 Saturday and Sunday we had some wonderful sessions at Victory Baptist Church, with Pastor James Schoolfield and his church. One of their members, Dr. Jim Ledbetter, is a scientist with five higher degrees, including Ph. D. in virology, and was a teacher (chemistry, biology, physics), but forced out for not promoting evolution. He was like a kid in a candy store 🙂 I was thrilled to have my material pass muster of such a well-credentialed scientist and educator, while at the same time having many people comment that I make my presentations understandable to regular people (including children). It indeed is my goal to be interesting, exciting, and understandable. Pastor Howard Nelson (who passed away last month) used to advocate "putting the jelly on the lower shelf where everyone can reach it".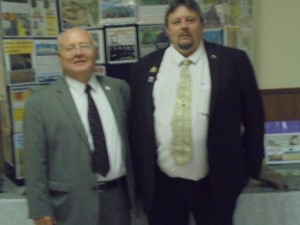 I'll let Bro. Schoolfield describe the meetings:
"The Victory Baptist Church of Crossville, Tennessee was greatly blessed by the ministry of Teno Groppi Saturday and Sunday 13 and 14 June. He presented a Creation Seminar using PowerPoint display. He also had three tables full of artifacts which he showed and explained to us all of which confirmed the Bible. I believe every Bible believing church in America should have this man come and present a creation seminar."
        You can find this, and several other recommendations at: http://genesisevidence.org/testimonies/
I also presented my display at Mukwanago Baptist Church (Mukawanago, WI) with Pastor Rhon Roberts, at a Christian education promotion. It was a thrill to see dozens of kids engulf my display, asking more questions than I could answer all at once. How often do kids get to handle dinosaur fossils, footprint castings, museum skull replicas, and numerous other items defending the veracity of scripture? We are looking at having a creation day at their Christian school.
My summer schedule thins out dramatically (it picks back up in the fall and into next year). If you are interested in using my ministry to fortify faith in the Bible, especially as each generation in America gets further away from God, NOW is a good time to set up some meetings (this is VBS season, and I've done a number of VBSs). You can contact me by email or phone:
307 Merritt AV
Oshkosh, Wisconsin 54901
920-426-9885 (home)
920-376-0828 (cell)
genesisevidenceministry@gmail.com